Imagine this scenario: you've been patiently eyeing that sleek, durable luggage set for months, but the hefty price tag has been holding you back. Don't worry, because we've got you covered. In this article, we'll unveil the secrets on when to snag that dream luggage set at a fraction of the cost. Discover the best times to buy luggage to get the biggest bang for your buck and embark on your travels in style, without breaking the bank. Say goodbye to overpriced suitcases and hello to incredible deals – let's dive into the world of luggage sales.
1. End of Season Sales
One of the best times to snag a great deal on luggage is during the end-of-season sales. Retailers often offer significant discounts on products from the previous season to make room for new inventory. This means that you can get your hands on high-quality luggage at a fraction of the original price. Keep an eye out for these sales, especially towards the end of winter and summer seasons.
Benefits of End of Season Sales
End of season sales present several benefits for savvy shoppers. First and foremost, you can save a considerable amount of money by taking advantage of these sales. Many retailers offer discounts ranging from 30% to 70% off the original price. This can amount to significant savings, especially if you're in the market for multiple pieces of luggage.
Additionally, end of season sales provide an excellent opportunity to purchase high-end luggage brands that may have been out of your budget at regular prices. With the discounts available during these sales, you can often find luxury luggage at more affordable prices. It's a win-win situation for both your wallet and your travel style.
2. Black Friday and Cyber Monday
Black Friday and Cyber Monday have become synonymous with incredible deals and discounts, and the luggage industry is no exception. The weekend following Thanksgiving is the perfect time to score amazing bargains on luggage items. Whether you prefer to shop in-store or online, you can find great deals during these popular shopping holidays.
Black Friday Deals
Black Friday is known for its doorbuster sales and limited-time offers. Many retailers offer deep discounts on various luggage items, including suitcases, carry-ons, backpacks, and travel accessories. If you're planning to shop in-store, be prepared for long lines and large crowds. However, the incredible savings can make braving the chaos worthwhile.
Cyber Monday Deals
If you'd rather avoid the in-store madness, Cyber Monday is the ideal time to shop for luggage online. Online retailers often offer exclusive deals and discounts on Cyber Monday, making it a convenient and cost-effective way to upgrade your travel gear. You can browse through a wide range of options from the comfort of your own home and have your purchases delivered right to your doorstep.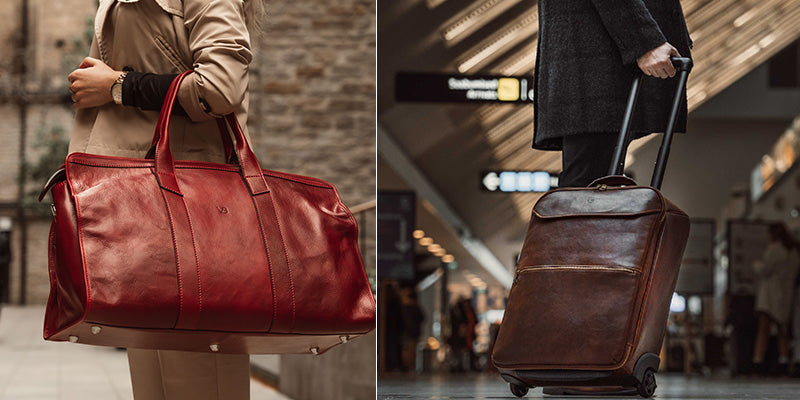 3. New Year Sales
As the holiday season winds down, many retailers offer New Year sales as another opportunity to attract customers. This is a great time to snatch up discounted luggage items that you may have missed during the previous sales events. Whether you're in need of a new suitcase or just want to upgrade your travel accessories, the New Year sales are worth checking out.
Best Deals in January
The month of January is often filled with clearance sales, making it an excellent time to find discounted luggage. Many retailers reduce prices to clear out their leftover inventory from the holiday season. You can find deals on both last season's styles and current models, so keep an eye out for these discounts when planning your post-holiday shopping.
4. Spring and Summer Sales
Spring and summer bring about a sense of wanderlust, and retailers know that this is the prime time for travel. As a result, many of them offer sales and promotions during these seasons to attract potential customers. It's worth exploring these spring and summer sales to find great deals on luggage options that fit your travel needs.
Vacation-Ready Deals
Before embarking on your summer vacation, take advantage of the spring and summer sales to upgrade your luggage collection. Retailers often offer discounted prices on luggage sets, allowing you to purchase multiple pieces at affordable prices. This is ideal for families or those who frequently travel with different types of luggage.
Additionally, keep an eye out for promotions on travel accessories such as packing cubes, toiletry bags, and travel pillows. These small but essential items can make your trips more organized and comfortable. With the discounts available during spring and summer sales, you can elevate your travel experience without breaking the bank.
5. Back to School Sales
Back to school season isn't just for students. It's also a fantastic time to shop for luggage deals. As students prepare to return to college or start a new school year, retailers often offer discounts on luggage suitable for both travel and campus life. Take advantage of these back to school sales to find stylish and functional luggage options that meet your specific needs.
Luggage for Students
Whether you're a student yourself or shopping for someone who is, back to school sales are the perfect opportunity to score backpacks, rolling duffels, or compact suitcases at discounted prices. Look for features such as durability, ample storage compartments, and comfortable straps. With the right backpack or rolling bag, you can easily transition between classes, the library, and weekend trips back home.
6. Clearance Sales
Clearance sales are a treasure trove for bargain hunters. Retailers often use these sales to make space for new inventory by offering substantial discounts on outgoing products. Keep an eye out for clearance sales throughout the year to find incredible deals on luggage items.
Last Chance Deals
Clearance sales provide an excellent opportunity to find heavily discounted luggage pieces. Retailers may offer deep discounts on older models or items that are being discontinued. While you may not have access to the latest releases, you can still find durable and stylish luggage options that fit your needs.
To make the most of clearance sales, keep track of the stores' clearance sections or sign up for their newsletters to stay informed about upcoming sales. By doing so, you'll be one step closer to finding your dream luggage at an unbeatable price.
7. Online Retailers' Anniversary Sales
Online retailers often celebrate their anniversaries with special sales and promotions. These events typically feature discounts on a wide range of products, including luggage items. Keep an eye out for anniversary sales from your favorite online retailers for a chance to snag great deals on travel gear.
Exclusive Online Discounts
Online retailers are known for offering competitive prices and convenience, and their anniversary sales further sweeten the deal. During these sales, you can find exclusive discounts on suitcases, travel bags, and accessories. The convenience of online shopping allows you to compare prices and read customer reviews to make an informed decision without leaving your home.
Additionally, online retailers may offer limited-time promotions such as free shipping or extra discounts for anniversary sales. Take advantage of these deals to maximize your savings and score the perfect luggage for your next adventure.
8. Flash Sales
Flash sales are short-term sales events where retailers offer limited quantities of products at heavily discounted prices. These sales usually last for a few hours or a day, creating a sense of urgency among shoppers. Keep an eye out for flash sales on luggage items to snag incredible deals on popular brands.
Act Fast for Deals
Flash sales require you to act quickly as the discounted items are often in high demand. It's essential to stay updated on retailers' promotions and be ready to make a purchase as soon as a flash sale is announced. Set up email notifications or follow your favorite luggage brands on social media to ensure you don't miss out on these time-sensitive opportunities.
While the fast-paced nature of flash sales can be overwhelming, the potential savings and the thrill of finding a great deal are well worth it. So keep your eyes peeled and be prepared to strike when the opportunity arises.
9. Special Promotions and Coupons
Many retailers offer special promotions and coupons to attract customers and encourage them to make a purchase. These promotions can include discounts, buy-one-get-one (BOGO) deals, or free gifts with a minimum purchase. Take advantage of these special promotions to maximize your savings on luggage items.
Coupon Codes and Discount Websites
Before making a purchase, it's always a good idea to search for coupon codes or visit discount websites that compile current promotions from various retailers. This way, you can apply coupon codes or take advantage of ongoing sales to get the best possible price on your desired luggage.
Additionally, some retailers offer loyalty programs or newsletters that provide exclusive discounts and promotions to members. Sign up for these programs to stay informed about upcoming sales and receive personalized offers that cater to your travel needs.
10. Off-Season Travel Sales
While not directly related to luggage sales, it's worth mentioning off-season travel sales as they can help you save on your overall travel expenses. Airlines, hotels, and travel agencies often offer discounted rates and packages during their off-peak seasons. By planning your travel during these periods, you can potentially save money, allowing you to allocate more funds towards purchasing quality luggage.
Timing is Everything
Off-season travel varies depending on the destination, so it's important to do your research. Popular tourist destinations may have different off-peak seasons. For example, beach destinations may offer discounted rates during the winter, while ski resorts may lower their prices in the summer.
By aligning your luggage purchases with off-season travel sales, you can save money on both flights and accommodations while also acquiring the necessary luggage to make your trip more comfortable and convenient.
In conclusion, there are several opportune times throughout the year to find great deals on luggage. From end-of-season sales to holiday promotions and flash sales, savvy shoppers can take advantage of these opportunities to upgrade their travel gear without breaking the bank. Plan your purchases wisely, keep an eye out for discounts and special promotions, and be ready to embark on your next journey with stylish and functional luggage that suits your needs and budget. Happy travels!